Gender Pay Reporting 2022
Railpen is committed to maintaining strong values that sit at the core of everything we do. As an employer, we are steadfast in our approach to being open, transparent and accountable in our treatment of colleagues.
Inclusivity, diversity and equity in all aspects of our business are fundamental to delivering our purpose. Building and maintaining a reputation as a great place to work is critical for attracting and retaining talent from a broad demographic.

This aim is underpinned by our new cultural change program, 'Belonging at Railpen', which covers a range of initiatives and projects that will improve all colleagues' experience of working for us and is detailed in the 'Review of Progress' section.

Gender pay reporting regulations give us the opportunity to share our progress and to deliver our commitment to treating individuals fairly. This year, we have continued to make progress across both Median and Mean hourly pay gaps. However, our biggest challenge remains unchanged – to increase the number of women at senior levels in Railpen, in an industry that has historically been male-dominated.

We are determined to achieve this objective. While we are pleased that both our Median and Mean Hourly Pay Gender Pay Gaps decreased in 2022, our concern regarding the size of the Gender Pay Gap has not diminished. We have made great strides this year – introducing "Our People at Work and Home" policy, which provides market-leading parental leave benefits, as well as expansion of our cultural change programme. However, we are cognisant there is still much work to do in order to close the gap. We've provided more information on the steps we're taking further on in this report.

Paula Brack

Chief HR Officer
The tables below detail these changes, comparing 2022 with 2021:

A gender imbalance in favour of males continues to exist in the upper quartile pay range of the organisation, and this is driving the overall gender pay gap.
We are resolute in working through a range of actions to improve gender balance. We are continuing on this journey and recognise that these activities need time to drive change.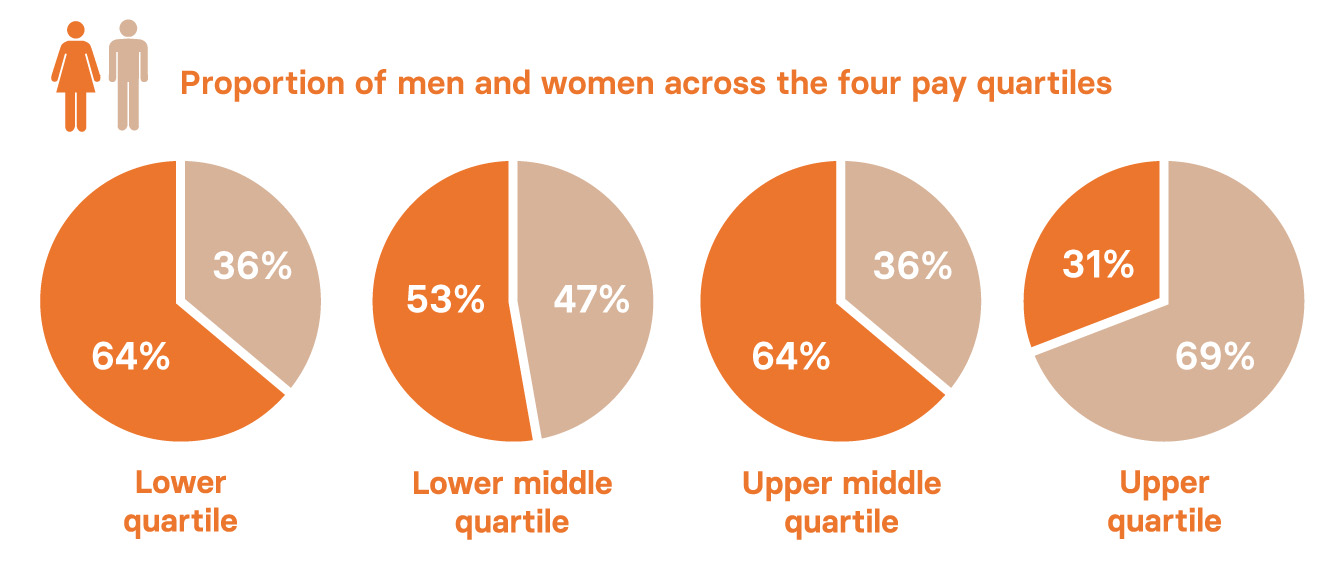 Review of progress in 2022
The changes to policy and working practices we embarked upon in 2020 and 2021 have continued to progress in 2022, and we have further developed our cultural change programme. We are confident this will assist us in driving further improvements in our Gender Pay Gap. We have summarised our progress to date in relation to our new initiatives and those relevant initiatives detailed in our previous report.
| | |
| --- | --- |
| | Driving change for People and Culture |
People and Culture Committee
We formed the People and Culture Committee in January 2022, providing a dedicated strategic focus to developing and delivering of one of our foundational goals: 'People Passionate about our Purpose'.
The Committee acts to ensure our people feel a sense of 'belonging' at Railpen, through a range of cultural and development initiatives, as well as a focus on Equity, Diversity and Inclusion. More about our Culture »
An inclusive place to work
Last year, we successfully introduced our 'Our People at Work and Home Policy'. This policy has revolutionised parental benefits, with the introduction and expansion of fully paid Adoption, Maternity and Paternity Leave available to all colleagues. Our Inclusion and Diversity working group were pivotal in influencing its introduction.
Our approach to working flexibly
We understand the importance work flexibility plays – in both attracting and retaining diverse talent. We continue to look at ways of enhancing our hybrid working arrangements, in terms of both time and location, to enhance work/life balance whilst being mindful of possible implications on performance and productivity. We are holding guided sessions for managers and colleagues to ensure learning is shared, challenges are surfaced, and solutions are sought. Our working environments across all three offices are continually reviewed and discussed with our Employee Connection representatives, and in turn, our colleagues.
The Railpen Living Wage
We introduced the Railpen Living Wage on 1 May 2021 and increased it in May 2022. We've embedded this into our Reward Framework, and will continue to review and update accordingly on 1 May annually.
This ensures the salaries of all permanent and fixed-term colleagues, including Apprentices, are kept ahead of the Real Living Wage as calculated by the Living Wage Foundation.
Embedding the Reward Framework
We use the Railpen Reward Framework to ensure salary, and target bonus elements of our colleagues' compensation packages are competitive, fair, and in line with what comparative competitors are currently paying. The Reward Framework is reviewed in its entirety annually and supports Railpen's fundamental aim that men and women are remunerated consistently and fairly.
Railpen provides a number of additional benefits, which we are currently reviewing, and will update in 2023 following engagement with our colleagues. We aim to ensure our people understand the value of our current benefits and have an opportunity to input and suggest any changes they would like Railpen to consider, ensuring our approach to benefits remains competitive and is aligned to the Reward Framework.
Developing our leaders, now and for the future
The Railpen Leadership Development project, introduced in Spring 2022, aims to support our people to become the leaders Railpen needs. We understand that, to ensure our teams are balanced at all levels, the coaching and development of our talented people is vital. As the leadership team become more effective, it will provide the next generation of leaders with the right role models for behaviour, approach and build a more effective future for Railpen. Our programme will continue into 2023, with further plans added for aspiring future leaders.
We have also prioritised the development of our managers – aiming to equip them with the skills to support our cultural change journey and to ensure we continue to develop Railpen as a place where people want to develop their careers. In May 2022, we launched 'Managing the Railpen Way' – a completely new approach to learning and developing our managers at Railpen.
Our Talent Acquisition and Business Partnering teams continue to play a key role in ensuring diverse candidates are shortlisted for vacancies, challenging external recruitment partners in building the talent pool, and ensuring the requirements of each role are well articulated and irrelevant criteria are removed to enable a wider pool of candidates to be considered.
| | |
| --- | --- |
| | Impact of Bonus Data on Gender Pay Reporting |
Railpen have a bonus scheme which encompasses all permanent roles. The scheme runs from January to December, and awards are made in April each year in respect of performance for the previous 12 calendar months ending 31 December. To be eligible, colleagues must be in the role prior to 1 October for the relevant year.
In April 2022, 89.2% of males and 86.8% of females received a bonus at Railpen in respect of the 2021 year – a decrease of 4.9% on the number of females who received a bonus in 2021. A high number of new female colleagues joined Railpen after October 2021 and were therefore ineligible for a bonus in 2022, which has impacted these results.
Railpen pay bonuses in April and, consequently, our hourly pay rate numbers, including Bonus, must be calculated, including pro-rata bonus payments under the regulations. As a result, it is difficult to make external comparisons on a like-for-like basis, because other companies may pay bonuses at other times of the year, leading to distortions in the calculation of hourly pay.
We are confident that the variety and scale of initiatives implemented at Railpen over the last couple of years are having a positive impact. Whilst our overall Gender Pay Gap is moving in the right direction, we are mindful that there is more work to be done, and we are committed to equality and transparency. It is important that Railpen is, and remains a compassionate and responsible employer and creates a culture of belonging for all our colleagues.