Railpen announces roadmap to become net zero by 2050 or sooner
RPMI Railpen (Railpen), which manages c. £32 billion of assets on behalf of the railway pension schemes (RPS), has further reinforced its view on the critical importance of tackling climate change by launching its plan to deliver a net zero portfolio by 2050, or sooner.
RPMI Railpen (Railpen), which manages c. £32 billion of assets on behalf of the railway pension schemes (RPS), has further reinforced its view on the critical importance of tackling climate change by launching its plan to deliver a net zero portfolio by 2050, or sooner.
Railpen's Net Zero Plan ('the Plan') is an important stride forward in its climate change journey, steering active emissions reduction and decarbonisation and builds on its significant climate change effort to date.
The Plan, set out in full here, aligns with the goals of the Paris Agreement, the policy and legislated aims of the UK government, and the Intergovernmental Panel on Climate Change's Special Report on Global Warming of 1.5°C. It lays out the key initial steps to deliver its decarbonization ambition while remaining mindful of its fiduciary duties.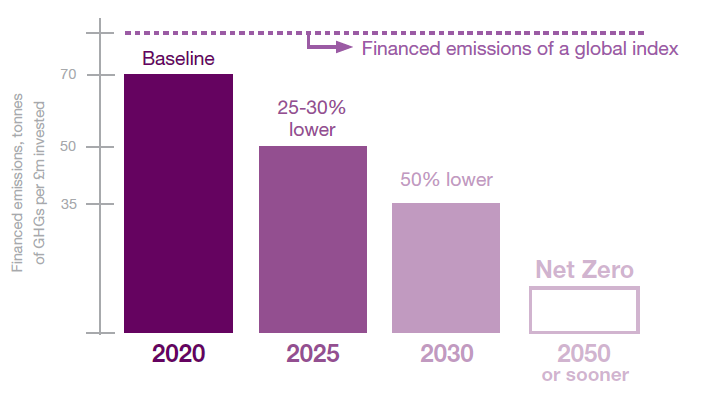 The current version of the Plan aligns with the Trustee's investment beliefs and is based on the Institutional Investors Group for Climate Change (IIGCC) Net Zero Investment Framework (NZIF). It covers Railpen's investments in listed equities, corporate fixed income, and sovereign bonds (65% of the portfolio).
As the IIGCC methodologies develop, the Plan will evolve further to include its real estate, private equity and infrastructure holdings over 2021/22.
Railpen aims for a 50% reduction in greenhouse gas emissions by 2030 and net zero emissions by 2050 or sooner, following a clear roadmap to Net Zero.
The roadmap charts a portfolio decarbonisation journey, primarily through corporate engagement, to align investee companies with Paris goals and increase the portfolio's climate resilience. Active ownership is key to Railpen's approach to responsible investment and to the Plan's success: the roadmap has a current engagement target with issuers responsible for 70% of portfolio material financed emissions and, by 2030, increasing to issuers contributing 90% of portfolio material financed emissions.
Railpen's heritage in Sustainable Ownership lays a strong foundation for this engagement activity with a robust track record in conducting due diligence, championing good governance, and actively engaging and voting. This work is rooted in Railpen's belief in the power of public policy and asset owner influence to positively shape markets and behaviours.
Railpen will continue to enhance its efforts, collaborating with investee companies that it believes will share its passion for the wide-ranging benefits of the Plan. It will also identify and integrate climate risks while capitalising on climate-related opportunities in its asset allocation and investment objectives to decarbonise the future world we will all inherit.
Railpen will work with its investment teams and external asset managers to build and grow its capital invested in developing new low carbon investments in wind, biomass and other energy-efficient technologies. As a universal owner with an extensive background in public policy collaboration, Railpen will continue working with its partners, collaborators, investor groups, and policymakers to advocate for clear climate policies and concerted action leading to a smooth Net Zero transition.
In building the Plan, Railpen pressed ahead with concrete and constructive steps, forming an internal climate working group to review decarbonisation, assess new climate opportunities and enhance climate-related communications to its members.
The Plan further reinforces Railpen's activity to address climate risk and reporting initiatives which have included:
being a lead investor with the Climate Action 100+ group;
leading the way in excluding companies from its portfolio on climate grounds;
proactively helping shape the government's Pensions Climate Risk Industry Group (PCRIG) guidance for pension scheme investors;
being a first mover in including Taskforce on Climate Related Financial Disclosures (TCFD) type climate related disclosures and incorporate discussions on climate accounting and directors' climate expertise in its global voting policy; and
actively contributing as a steering committee member of the Transition Pathway Initiative (TPI).
Commenting on the announcement, Michael Marshall, Head of Sustainable Ownership at Railpen, said: "We are committed to being a leading force in tackling climate change, the single biggest financial and global hazard of our time. We recognise the central role asset owners can play in driving change. This is why we have carefully considered, announced and shared a clear, achievable roadmap to net zero by 2050."
Chandra Gopinathan, Senior Investment Manager, Sustainable Ownership, at Railpen, said:
"Our step-by-step plan is predicated on collaboration, strong governance and purposeful stewardship, which has always been at the heart of everything we do for our scheme members. In the last few years, we have been at the forefront of climate stewardship, leading successful collaborative engagements through CA100+ and robustly exercising our vote on climate accounting in the 2021 AGM season.
"We will enhance this engagement as part of the net-zero roadmap we have set out, as we believe that achieving net zero globally can only happen if the asset owner and the wider investment community purposefully steward high emitting companies."
Richard Williams, Chief Investment Officer at Railpen, added: "As long-term investors, we have a fiduciary duty to secure our members' futures. We believe that climate change is financially material across all major asset classes. In support of our duty, the risks and opportunities presented by climate change can be mitigated and benefit from asset allocation, individual investment decisions and purposeful stewardship. In doing this, we are also securing the long-term returns for our members and creating a better world for them to retire into."