About us

Our purpose is to secure our members' future. Our dedicated teams help half a million members by providing pensions services across various industries.

Investing

We are prepared to be brave on behalf of our members. This comes through adapting to evolving needs, challenging others where necessary, and collaborating to drive better results.

Pension administration

We are committed to delivering an exceptional member and client experience that goes beyond basic administration.

Knowledge hub

We're keen to share more about what we think, what we do and how we do it. Click on the topics below to learn more.
Railpen wins PLSA Retirement Living Standards awards
Railpen, has won the inaugural award for Saver Engagement from the Pension and Lifetime Savings Association's Retirement Living Standards Awards.
The Retirement Living Standards Awards are a new initiative which recognise excellence in adopting the Retirement Living Standards for communications to pension scheme members. The Retirement Living Standards (RLS) are designed to help savers picture the lifestyle they want in retirement and understand the costs.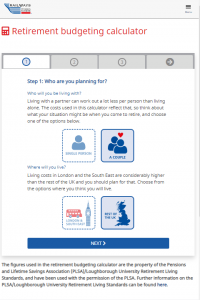 The Trustee of the railways pension schemes and Railpen has been a long-term champion of member empowerment through engagement and education. To help members better understand their retirement goals – and how to achieve them – Railpen developed the Retirement Budgeting Calculator tool. The calculator, which forms part of a comprehensive suite of tools and guidance content, allows a member to tailor the underlying RLS data to get a personalised savings target. Over 15,000 members have used the tool since launch, with the majority giving it top marks, 10 out of 10, for both their satisfaction with the tool and its ease of use.
Commenting on the win, the PLSA said: "They (Railpen) integrated the Retirement Living Standards through multi-channel member-friendly engagement campaigns in both text and visual formats, and a new easy-to-use online budget calculator tool which supports members through a personalised and tangible target they can use to assess whether their savings are on track."
Rachel McCaffery, from Railpen's Customer Experience team, said: "Railpen is dedicated to the single purpose to secure our members' futures. This calculator is an important part of our commitment to that purpose and we are delighted that members value it. The PLSA's Retirement Living Standards data helps us ensure this tool remains up to date and a credible source of information that our members can rely on."